Equissage Europe is a recognised Certified and Accredited Professional Standard training programme in Equine Sports and Rehabilitation Massage Therapy.
The qualification is widely accepted across the world and provides graduates with the opportunity to work with full Professional Liability Insurance, knowing their competency and standards are supported by rigorous training and post graduate support.
Successful students are eligible to become members of the International Association of Animal Massage therapists (IAAMT) the International Association of Animal Massage and Bodywork (IAAMB) and the International Association of Animal Professionals (ISAP) The course is UK Rural Skills Practitioner level accredited and Equissage Europe is a Preferred Education Provider.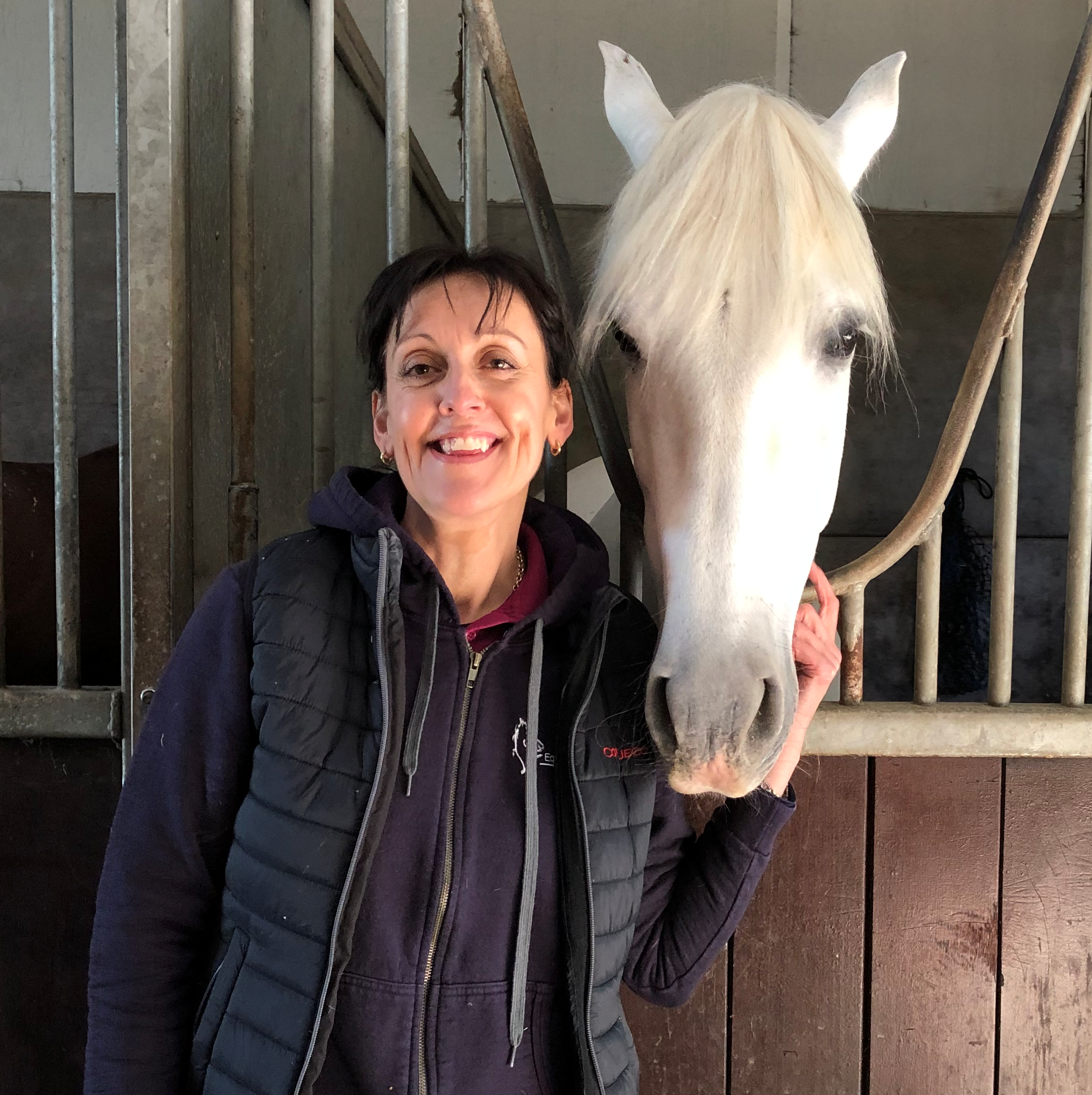 Helen Woolley was born in Cambridgeshire, UK in 1969. She graduated as a Chartered Physiotherapist from the Queen Elizabeth School of Physiotherapy in 1990 and worked in the NHS for many years, specialising in musculo-skeletal and sports medicine.

Helen went on to work as an army physiotherapist before moving into Private Practice, firstly in the UK and then Germany and the United States.

Helen's interest in horse rehabilitation and training developed after working at an army polo stables and the Paderborn Equestrian Centre in Germany.

During a 2 year period in the United States, studying equine physical therapy and rehabilitation, Helen met and trained with Mary Schreiber at Equissage, qualifying in 2004.

She has worked at yards in Kentucky, USA, Germany and the UK assessing and treating many types of sports horses including polo ponies, race horses, dressage horses and 3-day-event horses. She also has a passion for rehabilitation of all levels of equines.


Helen has been lead tutor of Equissage Europe since 2007 and now has over 800 graduates across the world. When not teaching Equissage courses she has an equine and human physiotherapy practice.

She is also tutor on the equine module of the Chartered Physiotherapists in Therapeutic Riding and Hippotherapy course and is County Physiotherapist and Hippotherapist for the Riding for the Disabled Association and Chair of Norwich and District Group RDA.
The Equissage Team
Kayna Prescott is a horse behaviour consultant and Equine Sports Massage Therapist. After gaining her degree in Animal Behaviour in 2005 she travelled the world studying horse ethmology in Mongolia, taught riding and led horse-back safaris across Kenya and worked on research projects studying human wildlife conflict.

Since returning to the UK she has studied bridle and bit fitting, feral pony handling and clicker training for equids.

Kayna is an endorsed trainer with the World Bitless Association and currently works as Lead Behaviour therapist in a leading equine welfare organisation. She is currently studying towards her Certified Clincial Animal Behaviour status with ASAB.

Bianca Carta is a fully qualified, accredited Cert. Equine Sports Massage Therapist having graduated in 2010. She has worked covering the North West of England and combines her love of treating horses with running a yard and showing and competing. Bianca is part of the tuition team for the North training courses.
The International Association Of Animal Massage Therapists.


What Is The International Association of Animal Massage Therapists (IAAMT)?
The IAAMT is a Networking Association of Animal Massage Technicians trained and operating under guidelines specifically designed to achieve the ultimate benefits of the therapy. As such, the Association's Members follow a strict code, which includes the following:
A full-body application of massage in all animals - at all times.
The prohibitive use of any mechanical device or aid in either rendering the massage sequence, or assistance in rendering that sequence.
The injunction against diagnosing any medical illness or condition.
The absolute exclusion of the use of any other alternative modality while offering service as an animal massage technician.
That Graduates work under the guidelines of any specific regulations for that country
"THE ACCUMULATING DATA OF SCIENCE CONTINUES TO SUPPORT THE BONDING AND THERAPEUTIC SUPERIORITY OF HANDS-ON ANIMAL/HUMAN MASSAGE INTERACTION OVER THOSE MODALITIES WHICH INCORPORATE THE USE OF ANXIETY-GENERATING, ALIEN MECHANICAL DEVICES"
- World Federation of Alternative Therapies
To Whom Is Membership In The IAAMT Offered?
Because of the scrupulous fidelity to the principles of the code outlined above, and the undertaking of the procedures in accordance with the dictates indicated in #5 of that code, it is chiefly graduates of the Equissage Certificate Programs to whom membership is offered.
What Are The Benefits Of IAAMT Membership?
From the individual Member's viewpoint, the most obvious benefit of Membership is the referral network that assists meaningfully in expanding a technician's client base. On a current average of 4-5 weekly requests for referral, there is a growing recognition in the animal community that this Association represents and refers only the highest quality technicians to petitioners.
United States: Additionally, among the U.S. technicians themselves, there is a confidence that their Association stands ready to support and assist them in any situation where a political or veterinarian entity attempts to interfere with their practice by claiming that "massage is the practice of veterinarian medicine"…. or with other pertinent legal issues. While for the most part, the former issue has dissipated over the recent past because of judicial rulings that massage is part of the grooming process…which in turn is considered Animal Husbandry , and therefore not regulated within the United States. The Association is asked from time to time to involve themselves in explaining this fact to various authorities. The Membership of the Association is accordingly grateful for this assistance.
UK: The IAAMT and Equissage Europe fully uphold the 1966 UK Veterinary Health Care Act and all Graduates must abide by this legislation including the seeking of Veterinary permission prior to treatment and maintaining appropriate insurance and CPD
Lastly, of course, the quarterly newsletter (presenting timely news about recent developments, etc. in the therapy), the provision of access to liability insurance and the comraderie of Association Membership stands as a plus for its Members.
What Role Does The IAAMT Play In The Promulgation Of These Guidelines, Which Help To Ensure The Widest And Most Effective Use of Massage Benefiting Animals?
In referring only those technicians who adhere to the code outlined above, and in promoting the related principles of that code, the Association believes that more and more clients are availing themselves of a massage technique that best serves their animals. Further, in dismissing, for example, therapists who only administer limited massage procedures to "affected areas", the Association is aiding in the goal of establishing a source of the very best massage professionals - which the public can turn to in confidence, each and every time.
Why Are Therapists Who Apply Massage Only To Affected Areas Considered Subordinate To Those Who Consistently Apply A Full Body Massage?
One of the accepted and essential objectives of the massage sequence is to assist in creating balance in the body. If a therapist is working on one or two specific areas of the body - he or she is actually helping to create imbalance . Such procedure is minimally counter-productive and detrimental to the objectives of the therapy.
What Is The Current Membership Of The IAAMT, And Is It Continuing To Grow?
Presently, the Membership of the International Association of Animal Massage Therapists stands at 10 000. Every state in the union is represented in this number, as are 18 foreign countries. With the ever growing popularity of the certificate programs following the curriculum necessary for Membership, it is anticipated that membership in the association will continue to grow into the foreseeable future. This bodes well for the increasing use of effective animal massage in this country and abroad, and for the prosperity of individual Member's practices.
The International Society For Animal Professionals.
Helen Woolley is also a Fellow of the International Society of Animal Professionals. The International Society for Animal Professionals was founded to improve animal welfare around the world.
The purpose of the Society is to provide a focus point to all interested parties around the world and to promote international cooperation and common standards of good practice when working with animals.
ISAP aims to encourage dialogue and better understanding of difficulties and different methodologies, to recognise experience and academic achievement and by so doing, work towards an improved existence for all animals worldwide.
ISAP Code of Conduct
Members will agree to abide by the following conditions of membership:
To act with integrity and in a professional courteous manner at all times.
That the best interest of clients and their animals must at all times be paramount. Integrity must never be sacrificed to commercial interest.
They will not practise when unable to do so competently due to physical or psychological ill health.
The relationship between the Members of ISAP and the client must be professional at all times. Members must never try to exploit their clients for their own benefit such as improper personal, professional or financial gain. 
Members do not impose his/her own values on the client. S/He treats any information received about clients or their animals as confidential and must ensure that it is not improperly used. If details of cases are published the anonymity of the client must be protected. Photographs or video recordings of the clients, their animals or their property are made only with the approval of the client.
Members must abide by the laws of the country in which they work. 
Members must not make unwarranted claims regarding professional ability and qualifications they do not hold.
Members must never cause unnecessary suffering to animals.
Where Members of ISAP employ workers or assistants who are not members of ISAP, they must ensure that those employees conform to the ISAP's code of conduct when dealing with clients and animals.
Members must have insurance cover if they work with clients and their animals.
Members must strive to continually develop their professional competence.
No member, by words or action, shall cause ISAP or any of its members to be brought into disrepute. A member of ISAP will respect the viewpoint of other members and does not publicly denigrate their professional conduct or opinion.
http://www.is-ap.org
Equissage Europe is Accredited and Certified with:
The International Association of Animal Massage Therapists (member since 2007)

The International Association of Animal Massage and Bodywork: Provider Number 20-25
UK Rural Skills Certified Provider: Member Number 525
UK Register of Learning Providers: UK PRN 10057208
Equissage Europe is Trade Marked: Number 00003239421
The original Equissage was founded and incorporated in the USA in 1989 by certified (Human) Massage Therapist, Mary A. Schreiber.
Mary Schreiber became interested in using massage on animals, and specifically horses, as a result of the outstanding benefits she saw on human clients.

At the time that she started Equissage, Mary Schreiber was operating a horse boarding stable in Bucks County, PA. and was actively competing in regional Western Pleasure Shows. As she began to witness first hand the effectiveness of the therapy on her own horses, she decided to market her equine massage service at local racetracks. The results were remarkable. Horses that hadn't finished in the money in over a year were starting to win, and horses who had been given up on were back working and racing competitively. At the same time, she also began working on show horses at many of the shows at which Mary Schreiber was competing. The results were the same…horses were performing better than they had in years, and muscle injuries were healing faster than owners and trainers believed possible.

Resultingly, Mary Schreiber was beseiged with requests to start teaching the therapy to others. Trainers, owners and riders were all interested in learning this wonderful "new" therapy.

Thus was born the Equissage Certificate Program in Equine Sports Massage Therapy. It was to be the first such program in the world. And since 1992, Equissage has graduated more than 8,000 Equine Sports Massage Technicians, from every state and over 25 different countries around the world. Many graduates work for the very top echelon of owners and trainer, in all the equine sports disciplines. Some have been selected to work with the US & European Equestrian team at Olympic level, while others have worked successfully in racing, dressage, cross country , showing , endurance riding and rehabilitation.